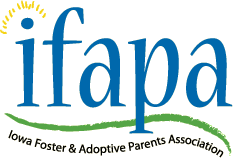 IFAPA - A Resource for Iowa's Foster, Adoptive & Kinship Families
The Iowa Foster and Adoptive Parents Association has been serving as a resource to foster, adoptive and kinship families in Iowa for nearly 45 years. IFAPA is a non-profit organization that empowers, supports and advocates for these families. Membership with IFAPA is free for Iowa's foster, adoptive and kinship families.
LEARN MORE ABOUT IFAPA
IFAPA Workshops for Foster & Adoptive Parents & Workers
SATURDAY, APR. 1
Mandatory Child Abuse Reporter
Council Bluffs, 9am-12:15pm (FREE CLASS)
CPR & First Aid
Council Bluffs, 1:15pm-5:30pm (COST - $40)
FRIDAY, APR. 7
IFAPA Spring Conference
Des Moines, 8:30am-4:30pm (COST VARIES)
SATURDAY, APR. 8
IFAPA Spring Conference
Des Moines, 8:30am-4:30pm (COST VARIES)
SATURDAY, APR. 15
Family Matters - Working with Birth Families in the 21st Century
Ankeny, 9am-4:30pm (FREE CLASS)
Mandatory Child Abuse Reporter
Cedar Falls, 9am-12:15pm (FREE CLASS)
CPR & First Aid
Cedar Falls, 1:15pm-5:30pm (COST - $40)
CPR & First Aid
Cedar Rapids, 1:15pm-5:30pm (COST - $40)
To register for one of the above classes,
call 800-277-8145 or REGISTER HERE.
Click here to register and pay for CPR
To view classes approved for Social Work CEUs, click here.

Current News

DON'T MISS YOUR CHANCE TO ATTEND THIS LAST STATEWIDE CONFERENCE FOR FOSTER/ADOPTIVE PARENTS & PROFESSIONALS. THIS WILL BE THE FINAL CONFERENCE HELD BY IFAPA.
Our conference workshops cover a wide variety of topics pertinent to foster and adoptive parents and the professionals that serve them. All of our conference workshops are approved for foster parent credit and many have also been approved for Social Worker CEUs.
VIEW CONFERENCE BROCHURE (includes mail-in registration form)
VIEW CONFERENCE DETAILS ONLINE (register online with credit card)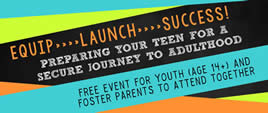 EQUIP..LAUNCH..SUCCESS!
Preparing Your Teen for a
Secure Journey to Adulthood

This event is free for youth (age 14+) and foster parents. Participants will learn about HUMAN TRAFFICKING and how to HELP TEENS SUCCESSFULLY TRANSITION TO ADULTHOOD. Every youth who attends will receive a giveaway.
EVENT DETAILS:
BETTENDORF Sat., April 22
ANKENY Sat., April 29
COUNCIL BLUFFS Thurs., June 8
BLOOMFIELD Sat., June 24
TO LEARN MORE ABOUT THE
SESSIONS & THE EVENT DETAILS PLEASE VISIT OUR TRAINING PAGE.

TO REGISTER ONLINE OR CALL
800.277.8145 - BE SURE TO
RSVP FOR YOUR TEEN TOO.