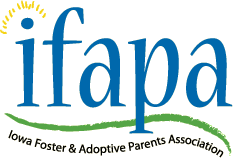 IFAPA - A Resource for Iowa's Foster, Adoptive & Kinship Families
For over 40 years, the Iowa Foster and Adoptive Parents Association has been serving as a resource to foster, adoptive and kinship families in Iowa. IFAPA is a non-profit organization that empowers, supports and advocates for these families. Membership with IFAPA is free for Iowa's foster, adoptive and kinship families.
LEARN MORE ABOUT IFAPA
IFAPA Workshops for Foster & Adoptive Parents & Workers
SATURDAY, SEPT. 10
Family Matters - Working with Birth Families in the 21st Century
Carroll, 9am-4:30pm (FREE CLASS)
A Guide to Trauma & PTSD in Children
Cedar Falls, 9am-12:15pm (FREE CLASS)
You Can't Push My Buttons Anymore: Resolving Your Own Trauma so You Can Effectively Parent Traumatized Children
Cedar Falls, 1:15pm-4:30pm (FREE CLASS)
Decoding the Mystery of ADHD
Cedar Rapids, 9am-12:15pm (FREE CLASS)
Worrywarts and How You Can Help: Understanding Anxiety Disorders in Children
Cedar Rapids, 1:15pm-4:30pm (FREE CLASS)
SATURDAY, SEPT. 17
Love is All You Need?
(Cultural Responsive Parenting)
Ankeny, 9am-12:15pm (FREE CLASS)
Why Can't They Stop:
Addiction and New Drug Trends
Ankeny, 1:15pm-4:30pm (FREE CLASS)
Mandatory Reporter Training
Cedar Rapids, 9am-12:15pm (FREE CLASS)
ACT on Your Stress:
Stress Management for Parents
Davenport, 9am-4:30pm (FREE CLASS)
Utilizing the Nurtured Heart Approach
in Helping Children with Challenging Behaviors
Marshalltown, 9am-4:30pm (FREE CLASS)
Calming the Trauma Storm
Sioux City, 9am-12:15pm (FREE CLASS)
Time to Get the Schools on Board
Sioux City, 1:15pm-4:30pm (FREE CLASS)
To register for one of the above classes,
call 800-277-8145 or REGISTER HERE.
Click here to register and pay for CPR
To view classes approved for Social Work CEUs, click here.

Current News

FALL 2016 CONFERENCE

Friday & Saturday, October 28 & 29
Marriott & Conf. Center in Coralville
A SAMPLE OF THE WORKSHOP TOPICS OFFERED AT THE FALL CONFERENCE:
- Building the Best Team
- Supporting Healthy Transitions
- Human Trafficking
- Psychotropic Medications
- Supporting LGBTQ Youth
- Effects of Disrupted Attachment
- Keeping Up with the Drug Culture
- Helping Kids Make & Keep Friends
- How Trauma Impacts Kids in Care
- Identity Formation in Adoption
- Culturally Responsive Parenting
- Understanding Learning Disorders

VIEW CONFERENCE BROCHURE
(REGISTER VIA MAIL)
VIEW CONFERENCE ONLINE
(REGISTER ONLINE)
Call for Presenters at IFAPA's Spring Conference
Are you interested in being a conference presenter at IFAPA's Spring Conference April 7-8, 2017 in Des Moines, IA? This two-day conference will bring together foster, adoptive and kinship parents as well as human services professionals from across Iowa with the goal of learning ways to best care for and support children in foster and kinship care as well as children who have been adopted. Download the form below to complete and submit your proposal via email to IFAPA's Training Coordinator at jclarkalbrecht@ifapa.org. For additional information including potential topic ideas, view the PROPOSAL FORM. Proposals are due by October 1, 2016!
Notice to Foster Parents

Required Training Now Available
In September 2014, Congress passed a new law establishing prudent parent standards throughout the United States. As part of this federal law, foster parents are now required to complete the Reasonable Prudent Parent Standard Training by September 30, 2016. For additional information and to view the RPPS training video, CLICK HERE.