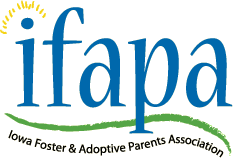 IFAPA - A Resource for Iowa's Foster, Adoptive & Kinship Families
The Iowa Foster and Adoptive Parents Association has been serving as a resource to foster, adoptive and kinship families in Iowa for nearly 45 years. IFAPA is a non-profit organization that empowers, supports and advocates for these families. Membership with IFAPA is free for Iowa's foster, adoptive and kinship families.
LEARN MORE ABOUT IFAPA
IFAPA Workshops for Foster & Adoptive Parents & Workers
SATURDAY, JAN. 21
Mandatory Child Abuse Reporter
Cedar Falls, 9am-12:15pm (FREE CLASS)
CPR & First Aid
Cedar Falls, 1:15pm-5:30pm (COST - $40)
Foster Care Meets Mental Health:
A Foster Parent Dilemma!
Cedar Rapids, 9am-4:30pm (FREE CLASS)
SATURDAY, JAN. 28
Mandatory Child Abuse Reporter
Cedar Falls, 9am-12:15pm (FREE CLASS)
Family Matters - Working with Birth Families in the 21st Century
Council Bluffs, 9am-4:30pm (FREE CLASS)
Utilizing Nurtured Heart Approach in Helping Children with Challenging Behaviors
Davenport, 9am-4:30pm (FREE CLASS)
SATURDAY, FEB. 4
CPR & First Aid
Davenport, 8am-12:15pm (COST - $40)
Mandatory Child Abuse Reporter
Davenport, 1:15pm-4:30pm (FREE CLASS)
The Magic of Healing the Brain and Fostering a Secure Attachment
Marshalltown, 9am-12:15pm (FREE CLASS)
Parenting the Willful Child -
Helping Your Child Use Their Power
for Good and Not Evil
Marshalltown, 1:15pm-4:30pm (FREE CLASS)
To register for one of the above classes,
call 800-277-8145 or REGISTER HERE.
Click here to register and pay for CPR
To view classes approved for Social Work CEUs, click here.

Current News
Educational Videos from
Blank Children's Hospital
IFAPA has recently established a partnership with Blank Children's Hospital, Regional Child Protection Center to collaborate in developing brief educational videos on topics involving foster children, such as children's behavior, eating needs, physical issues and medical issues.
The following three videos are available for families to view on the IFAPA website and through the Blank Children's Hospital Regional Child Protection Center website. More videos will be posted as they become available.
FOOD/EATING ISSUES & CHILDREN IN FOSTER CARE
FREQUENT INFECTIONS IN INFANCY/EARLY CHILDHOOD

BEDWETTING
Does Your Foster Teen Need $500 for Activities?
SPECIAL FUNDING AVAILABLE
FOR TEENS IN FOSTER CARE
IFAPA has received special money from Chaffee Funds for teens (age 14 and older) in foster care that can only be requested through June 30, 2017. This special grant can be accessed through
IFAPA's Friends of Children in Foster Care Program. These grants will be available for up to $500 per youth. This funding is for all teens (14 years and older) in a foster care placement including shelter, foster family homes, group care, & supervised apartment living. To apply for this special funding, please complete a FRIENDS APPLICATION.
Reminder About Weather-Related Class Cancellations
During bad weather, we try our best to avoid cancelling trainings. If the trainer is able to make it to the training location and the facility is open, IFAPA will still hold the class for those families that need to get their training hours completed. If you feel the weather is too dangerous to travel, please stay home and you can register for a different upcoming class. If a class needs to be cancelled, we will make every effort to notify all attendees of the cancellation via e-mail and text. IFAPA will also post cancellations on our website and Facebook page. If you would like to find out if any classes have been cancelled, you can also call (800-277-8145 ext. 2) and listen to our Training Coordinator's voicemail (Julie Clark-Albrecht) for details on any class
cancellations.