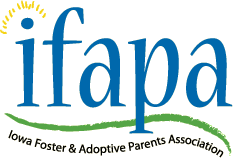 IFAPA - A Resource for Iowa's Foster, Adoptive & Kinship Families
The Iowa Foster and Adoptive Parents Association has been serving as a resource to foster, adoptive and kinship families in Iowa for nearly 45 years. IFAPA is a non-profit organization that empowers, supports and advocates for these families. Membership with IFAPA is free for Iowa's foster, adoptive and kinship families.
LEARN MORE ABOUT IFAPA
IFAPA Workshops for Foster & Adoptive Parents & Workers
IFAPA TRAININGS
To register for one of the winter classes,
call 800-277-8145 or REGISTER HERE.



Current News
UPCOMING CHANGE IN DHS SUBSIDY STATEMENTS:
Starting September 1, 2018, foster family payments and adoption subsidy payments will be combined into one statment rather than two.
THANK YOU FAMILIES - for your passion and commitment to provide a safe loving home to children.