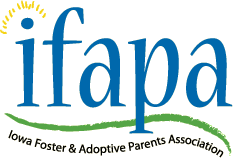 IFAPA - A Resource for Iowa's Foster, Adoptive & Kinship Families
The Iowa Foster and Adoptive Parents Association has been serving as a resource to foster, adoptive and kinship families in Iowa for nearly 45 years. IFAPA is a non-profit organization that empowers, supports and advocates for these families. Membership with IFAPA is free for Iowa's foster, adoptive and kinship families.
LEARN MORE ABOUT IFAPA
IFAPA Workshops for Foster & Adoptive Parents & Workers
WINTER TRAININGS
To register for one of the winter classes,
call 800-277-8145 or REGISTER HERE.



Current News

JOIN US FOR THE 2018 IFAPA Adventureland 
Appreciation Day Event:
Saturday, August 18th. 
Click here to purchase tickets.
or Click Here to print out the hard copy form for payments by check.
Adoption Respite Changes:
After July 1, 2017 the new DHS contractors will be taking over the Adoption Respite Program.
Click here to find the new Adoption Respite Billing forms for respite taken after June 30, 2017.
THANK YOU for your passion and commitment to provide a safe loving home to children.