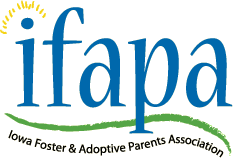 IFAPA - A Resource for Iowa's Foster, Adoptive & Kinship Families
The Iowa Foster and Adoptive Parents Association has been serving as a resource to foster, adoptive and kinship families in Iowa for nearly 45 years. IFAPA is a non-profit organization that empowers, supports and advocates for these families. Membership with IFAPA is free for Iowa's foster, adoptive and kinship families.
LEARN MORE ABOUT IFAPA
IFAPA Workshops for Foster & Adoptive Parents & Workers
SATURDAY, MAY 6
Integrative Parenting: Strategies for Raising Children Affected by
Attachment Trauma
Ankeny, 9am-4:30pm (FREE CLASS)
What Are You Trying to Tell Me? Responding Effectively to
Troubling Behaviors
Burlington, 9am-4:30pm (FREE CLASS)
The ABC's of Early Childhood
Connections: Nurturing Social &
Emotional Development in
Infants & Toddlers
Cedar Rapids, 9am-12:15pm (FREE CLASS)
Mandatory Child Abuse Reporter
Iowa City, 9am-12:15pm (FREE CLASS)
CPR & First Aid
Iowa City, 1:15pm-5:30pm (COST - $40)
SATURDAY, MAY 13
Mandatory Child Abuse Reporter
Ankeny, 9am-12:15pm (FREE CLASS)
CPR & First Aid
Ankeny, 1:15pm-5:30pm (COST - $40)
To register for one of the above classes,
call 800-277-8145 or REGISTER HERE.
Click here to register and pay for CPR
To view classes approved for Social Work CEUs, click here.

Current News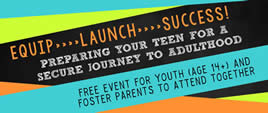 EQUIP..LAUNCH..SUCCESS!
Preparing Your Teen for a
Secure Journey to Adulthood

This event is free for youth (age 14+) and foster parents. Participants will learn about HUMAN TRAFFICKING and how to HELP TEENS SUCCESSFULLY TRANSITION TO ADULTHOOD. Every youth who attends will receive a giveaway.
EVENT DETAILS:
ANKENY Sat., April 29
COUNCIL BLUFFS Thurs., June 8
BLOOMFIELD Sat., June 24
TO LEARN MORE ABOUT THE
SESSIONS & THE EVENT DETAILS PLEASE VISIT OUR TRAINING PAGE.

TO REGISTER ONLINE OR CALL
800.277.8145 - BE SURE TO
RSVP FOR YOUR TEEN TOO.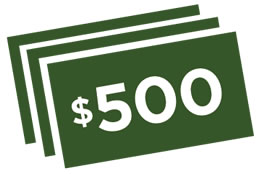 $500 Grants Provide New Opportunities to Iowa Teens in Foster Care
Teens in foster care (age 14 & up) can apply for a Friends grant up to $500 per fiscal year. IFAPA has received special money from Chaffee Funds for teens in foster care that can only be requested through June 30, 2017. This funding is for all teens in a foster care placement including shelter, foster family homes, group care, & supervised apartment living. For the application and to view items covered by the Friends of Children in Foster Care program, CLICK HERE.